John Turner
Co-Founder and Growth Engineer
John Turner, a baby boomer, is a creative and performance-oriented leader with over 30 years' experience as a successful serial entrepreneur, executive, strategist, innovator, and business growth professional. His ventures have been featured in the INC 500, Florida Technology 500 and the Suncoast Technology Fast 50.
Fun Facts: Climbed Mount Everest & BASE Jumper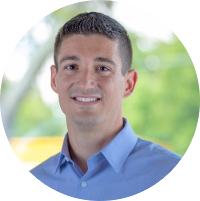 Etienne Turner
Co-Founder and Senior Inbound Marketing Manager
Etienne Turner, a millennial, is an entrepreneur and innovative digital marketing expert with a passion for creating growth hacking strategies for profitable growth.  Etienne is a featured speaker at Vistage Worldwide.
Fun Fact: Class 5 River Guide.
Marina Orlova
Inbound Marketing Manager
Marina is a marketing strategist who loves learning new things and expanding her skillsets and experiences. Although her educational background is rooted in health sciences and Oriental Medicine, somehow her journey led her into the data-driven and continually changing world of marketing. When not cuddling on the couch with Bella, Marina is busy building targeted marketing strategies and improving her clients' digital footprint.
Fun Fact: Professional Latin Dancer
Ryan Bennett
Inbound Marketing Manager
After moving to North Carolina from Maryland to become a NASCAR driver with a back-up plan as a mechanical engineer, he finds himself creating marketing campaigns for businesses around the world. With a plot twist, Ryan received a degree in Marketing from the University of North Carolina at Charlotte and is a retired racecar driver. Ryan is a huge Pittsburgh Steelers, Washington Capitals, and Florida State Seminoles fan, completing the strangest sports allegiance combination known to man.
Fun Fact: He is colorblind
Colin Abercrombie
Inbound Marketing Manager
Colin has bounced around and lived all over the place. Born in the great state of Ohio he bleeds scarlet and Grey as a Buckeye fan. Living in Chicago and Arizona before finding a home in North Carolina where he studied Marketing at The University of North Carolina at Charlotte. After graduation, he found himself selling industrial welders and professional body-shop equipment, but now he helps businesses find success with cutting-edge technology in digital marketing.
Fun Fact: He has the best jump shot east of the Mississippi
Alessandro Lannes
Inbound Marketing Manager
Alessandro's passion has always been to help businesses grow and flourish. During his time at Skidmore College, he consulted for an array of local businesses helping them structure their company and achieve their goals. This continued pursuit of helping businesses flourish has led him to the digital marketing world. Alessandro, along with his trusty side-kick Cody, loves finding new and innovative strategies to help companies grow.
Fun Fact: He's half German, half Brazilian
Julio Montolio
Inbound Marketing Manager
I am an executive strategist and practice leader in the communication field with over 6 years of experience. A highly skilled senior consultant for account management and multichannel optimization. I have led the development and delivery of multi-dimensional cross-functional solutions for clients, bringing together strategy, business processes and digitally led solutions.
Bella Turner
Director of Human Resources
Bella loves people and has a passion for connecting with people to make them feel loved.
Fun Fact: You can take her to a dog park and she will introduce herself to all the people before playing with the dogs.
Cody Lannes
Designated Sleeper
When he's not dreaming up the newest strategies to ensure a client's success, Cody is hard at work making sure everyone in the office has to pet him.
Fun Fact: He would rather chew on a tennis ball than a dog bone.