Inbound marketing isn't just a service. It's a methodology that can fuel exponential growth for your business.
What Is The Inbound Methodology?
The customer is at the core of Inbound.
Rather than pushing a brand, product or service onto prospects, inbound marketing draws visitors and prospects in with valuable content that answers their questions or solves the problems they already have. Then, we convert them into customers that will drive sustainable growth for your business.
How do we do that?
Attract Visitors
We will work with your team to identify your revenue goals and work backward with our full-funnel revenue calculator to establish KPIs for your inboud marketing initiatives.
Convert Visitors into Leads
Engage your visitors with relevant content and capture their information for further nurturing. 
Hit Your Revenue Targets
Close your leads with timely content and automation to hit your revenue goals. 
What's our Key Differentiator?
Your customers should be at the heart of everything you do. We help our client's create detailed and accurate buyer personas for them to use across their marketing strategy.
To help our customers generate traffic and become a thought leader in their industry, we help them create content that answers the questions their audience is already searching the answer for.
We help our customer's employ the Story Brand framework to help them consistently convert prospects.
Sales
Sales & Marketing Alignment
CRM Implmentation
Sales Enablement
Sales Strategies
Marketing
Content Creation
Paid Advertising
Email Marketing
Social Media Marketing
Messaging & Branding & much more
Technology
Tech Stack Consolidation
Marketing Automation
CRM Automation
Analytics
What Do Our Customers Have To Say?
"digitalJ2's most significant selling point is that they care about our growth just as much as their iwn growth and they know by being a trusted partner to us, it will help ignite their own business"
Constantino Lannes
President | Sennebogen LLC
Click here to read more customer testimonials.
Account Manager
As your primary point of contact, your Inbound Marketing Manager, like X pictured above, will be working to develop and execute your day-to-day strategies. They will always be there to answer your questions, collaborate, and help you grow.
Copywriter
Available whenever you need it, one of our Growth Strategists, like X pictured above, will be available to discuss your strategy in-depth. Our growth strategists are highly skilled and equipped to take your marketing to the next level.
What Is Our Proven Process?
Step #1: Getting-To-Know-Each-Other Phase
First, we want to get to know you! We'll set up a 30-minute call for us to learn and better understand who you are. We want to know about your current marketing efforts, and what you're ultimately trying to achieve. This call will help us understand whether or not we're a good fit, and if we move forward into the next phase.
Step #2: Growth Strategy Phase (1.5 – 2 months)
If we agree that we're a good fit for each other, we'll start getting to work analyzing your website and overall digital marketing strategy. The insights we gain will help us create a strategic plan which will include our recommended improvements and the opportunities where we see the potential for growth. Don't like our suggestions? No worries!
Our Growth Strategies come with a money-back guarantee.

Step #3: Growth Phase
Like our Growth Strategy? Want to work with us? Great. We will immediately roll up our sleeves and get to work. Your Growth Strategist will begin working with our talented Inbound Marketing Managers to make improvements to your digital marketing strategy that are designed to ignite growth. If at any time either of us identifies an opportunity or need to make a change, that's not a problem. Our team and process is agile so we are able to make pivots right away.
Every 90 days after that…
Together, we'll take a look at how we're doing. How is the strategy performing? Are there any opportunities for more growth? Then, we will reset our objectives and create the next quarter's plan.
Do you see a need for data visibility & reporting?
Data visibility and reporting is a vital piece of the puzzle. How many of your leads turn into qualified leads? How many of them turn into customers? What is your ROI for paid search? How much traffic, leads, qualified leads, and customers are generated from organic search, referrals, and paid media? Our data visibility and reporting solutions will answer those questions so you can learn more about your customers and reach them easier.
Does your website need enhancement?
Ongoing optimizations and improvements are important in order to maintain a high-quality website. In order to grow, your website must be dynamic so that visitors will convert into leads.
Could you utilize marketing automation software?
HubSpot offers services that can take your marketing efforts to the next level. However, without utilizing all of HubSpot's services, such as lead nurturing, smart lists, workflows and more, your growth is bound to plateau.
Does your content lack the traffic it deserves?
We know that ranking at the top of a Google search page is tough. However, using our team's skills and the resources we have at our fingertips, we can make sure more people see the value of your offering by getting to your website and reading your content.
Do you need help blogging and strong content that converts?
You probably already know the importance of creating content. However, sometimes it's easier said than done. Luckily, we create the quality content that your digital marketing is craving. From valuable eBooks, blogs, infographics and more, we have the ability to take your digital marketing strategy to another level with customer-centric content that can fuel revenue growth.
Inbound marketing Pricing
Our inbound marketing packages range from $5,000 – $15,000 and are completely customizable to fit your marketing needs.
Q: Without having the background that we have in our industry, how do you become knowledgeable enough to write content for us?
A: During the growth strategy phase, we conduct thorough research of the industry as well as your competitors. To get up to speed quickly, we work with your customer-facing teams to extract industry information your prospects are wanting to know and transfer into digital assets.
Q: How much time do I need to dedicate to our partnership?
A: We estimate about 1-3 hours per month. This will include collaboration meetings and monthly reviews and will depend on the size of your package and the scale of the initiative we take on.
Q: What is the ROI of Inbound Marketing?
A: Inbound Marketing will help you increase website traffic, acquire more qualified leads, and have a higher lead-to-customer conversion percentage. More specifically, since your ROI is dependent on multiple factors, we utilize analytics tools to update you regularly on incoming leads and conversion rates at least once a month.
Q: How do you communicate results/progress?
A: Depending on your preferences, we can work around your availability. From weekly to monthly calls, we offer a variety of options based on your company's needs. But one thing's for certain; you will have a monthly review in your inbox once a month that will share progress, learnings, upcoming plans and more.
Q: How long does it take to start seeing results?
A: The amount of time it will take to see results will vary. Depending on your existing efforts, it could take as little as 90 days! As soon as we start working with you, we will determine and act on some quick wins to ignite your growth.
Q: What can Inbound Marketing do for my business?
A: Inbound will help establish your brand as a trusted industry thought leader and build the visibility and credibility needed to attract & convert new customers. Inbound can mean that your ideal customers will look for YOU rather than you always looking for them.
Q: How will you ensure that our sales team is aligned with an outsourced marketing team?
A: Marketing and sales alignment is something that we prioritize and truly value at dJ2. We emphasize collaboration and communication to ensure that we stay aligned at every step of the way.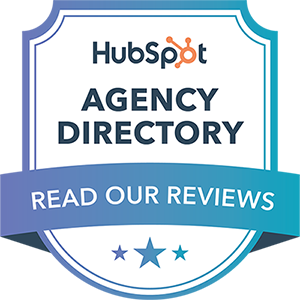 Don't just take it from us.
You will not be disappointed
Not many portners exceed my expectations…these guys do. I only wished I hired them sooner.
Bily Lipari, Mueller – Innovative Custom Cut Solutions.
July 10, 2019
Helpful and Transformative
Digital J2 has been vital to the success of our increased online prescience and optimization of Hub Spot. Their team is insightful, responsive and proactive about ways to improve our inbound strategy.
Jordan Roby, nGROUP
April 12, 2019
Tell us about your goals.
Let's talk (on your terms).